What do you think of the song "Lost" ?

[ALL CREDIT TO CAPTIVE STATE]
One new date has been added :
May, 30 2008 09:00 PM - The Cellar, Oxford.
(More information to come)
For all the others - please go ::
here
I've made 5 icons last night. I hope you will like them. ;)
Thanks to
bj_4ever
for the advices.
Preview :
Current Location:

Bed Room

Current Mood:

content

Current Music:

Lost - Captive State
This promo was made in 5 days as part of the 555 music promo competition run by Flophouse Films.
It won "Best Director" and "Best Art Direction" in that competition.
(
The video.
Collapse
)
Directed by
Tom Edmunds
Captive State performing 'Lost' Live at Terminal March, 2008.
(
The video.
Collapse
)
Edited by John Holloway
Hi there it's the admin talking - don't need to walk away I don't usually bite people! lol
I just wanted to present myself a bit and the com.
Just please
ENJOY
-
RESPECT THE FEW "RULES
" and most of all
HAVE FUN
!
You can find anything about the band and the comm on "
Captive State user info"
.
!! JOINS US AND SUPPORT THEM !!
WELCOME HERE :D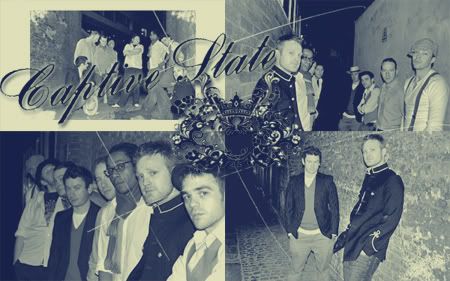 Comment to be added
::::
Talk - News - Fanarts - Fanvids - Ideas - Meet up
::::